Johnny Bravo is an American animated television series created by Van Partible for Cartoon Network. The series stars a muscular beefcake young man named Johnny Bravo who dons a pompadour hairstyle and an Elvis Presley-like voice and has a forward, woman-chasing personality. Plots typically revolve around him trying to get a woman that he has targeted throughout the episode to fall in love with him. He is often beaten up or stunned by his target or companions, or is ditched by them in the end.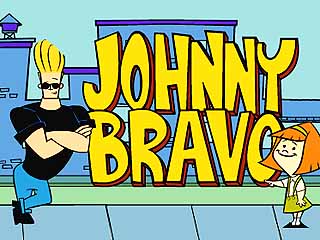 The series was originally part of a series of shorts on Cartoon Network's animation showcase series World Premiere Toons (also known as the The What a Cartoon! Show.) The popularity of the shorts led to the network commissioning a full series for the show, which premiered on July 7, 1997. The series was renewed for multiple following seasons and finally ended its official run on August 27, 2004.
The series was the second series to be spun from World Premiere Toons, and is the second series under Cartoon Cartoons (a collective name for early Cartoon Network original series). A spin-off of the series, JBVO, was unsuccessful and ran for one season. Many of the writers and directors on the series went on to become famous for their own projects (writer Seth MacFarlane for Family Guy and writer/director Butch Hartman for The Fairly OddParents). Johnny Bravo is today considered a classic Cartoon Network series, the title character is labeled as "iconic", and his catchphrases (including "Wooaahh, Mama!") are relatively common in popular culture.Reruns of the show are played on Boomerang.
An television movie titled Johnny Bravo Goes To Bollywood was made and aired in India in 2009, and in August 2010 in the United Kingdom. A 70-minute movie with the same title aired in Australia on November 20, 2011.
As of March 30, 2012, this series has returned to Cartoon Network in re-runs on the revived block, Cartoon Planet.